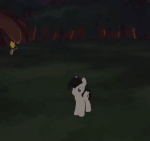 Candy Shower
Talent: Partying
Damage Type: Physical
Level unlocked: 1
Training Point cost: 20
Candy Shower is an ability that deals damage over time in area of effect radius.
The damage can be stacked in conjunction with other players that use the ability as well.
Despite the visual of the ability lasting 30 seconds, it will not deal damage after 13 seconds have passed.
If upgrade Sugar Rush is learned skill will apply Sugar Rush stacks to target. These stacks can be consumed by using Sugar Crash.
Maximum number of stacks is 100.
Basic attributes

| Energy cost | Damage dealt | Tension | Effect time | Cooldown |
| --- | --- | --- | --- | --- |
| 20 | 9x13 seconds | soothing 9x13 | 13 seconds | 15 seconds |
Upgrades tree
[
]
Sugar Rush

| Tier | Level | TP cost | Effect |
| --- | --- | --- | --- |
| 1 | 1 | 10 | "Your target becomes too hyper to stay angry. A sugar high makes them vulnerable to Sugar Crashes" |
| 2 | 10 | 20 | "Your target becomes too hyper to stay angry. A sugar high makes them vulnerable to Sugar Crashes" |
| 3 | 20 | 30 | "Your target becomes too hyper to stay angry. A sugar high makes them vulnerable to Sugar Crashes" |
| 4 | 30 | 50 | "Your target becomes too hyper to stay angry. A sugar high makes them vulnerable to Sugar Crashes" |
| 5 | 40 | 70 | "Your target becomes too hyper to stay angry. A sugar high makes them vulnerable to Sugar Crashes" |
Candy Overload

| Tier | Level | TP cost | Effect |
| --- | --- | --- | --- |
| 1 | 1 | 10 | "You gave them too much candy! They can barely see you through the attack" |
| 2 | 10 | 20 | "You gave them too much candy! They can barely see you through the attack" |
| 3 | 20 | 30 | "You gave them too much candy! They can barely see you through the attack" |
| 4 | 30 | 50 | "You gave them too much candy! They can barely see you through the attack" |
| 5 | 40 | 70 | "You gave them too much candy! They can barely see you through the attack" |
Attack and talent modifier
[
]
All tension and damage per tick for this skill is modified by adding:
partying talent level+attack/(165+attack)*45