Jurassic World: Dominion Dominates Fandom Wikis - The Loop
Play Sound
Cantermore is the starter town for unicorns. An upper-class posh city high in the mountains, Cantermore is organized into several areas, namely as the market district, the park district, and the residential district. Cantermore features multiple towers overlooking the residential district.
High walls surrounding the residential district can be bypassed by going through doors built into them, or by walking around them (pegasi can simply fly over the walls). Cantermore is accessed from Ponydale and the Crystal Kingdom via the train station, and from Cloudopolis via the airship Splashcloud located near the Wonderbolts' Headquarters. The path south-west of Cantermore beyond the gateway to the bridge leads the players to The Heartlands. While it is possible for players to fall off the mountainside, travelling beyond the boundaries of the map results in them being teleported back to Cantermore School.
Places of interest
[
]
Market district
[
]
The market district is a ring of shops around the city center, serving as a location for most of the merchants in Cantermore. Paths branch out from here to the residential and park district.
Wonderbolts' Headquarters
[
]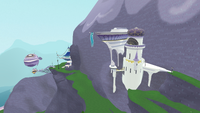 This structure serves as a distinct landmark, perched on the cliffs north of Cantermore. Non-fliers have to climb a long and winding path to reach the headquarters. The interior of this building cannot be accessed.
Splashcloud
[
]
Northeast of the city, next to the Wonderbolts' Headquarters is the airship port, with the airship Splashcloud docked at the bridge, providing transport for players to Cloudopolis. Non-fliers will have to climb a winding path up to reach the airship, which is docked at the edge of the cliff.
Cantermore School
[
]
Cantermore School is the spawning location for new unicorn players, and is located west of the city center. Only the external structure can be explored, with portals linking different outdoor platforms of the school.
Cantermore Library
[
]
Cantermore Library is found between Cantermore University and the Cantermore business circle. A two-story dome fill with books.
Rodeo stadium
[
]
In the northern region of Cantermore, a rodeo stadium is set up in the middle of the park district. Training dummies can be found here, where players can practice their combat skills on without risking retaliation. Minimal XP is awarded upon successful takedown of the dummies.
Pet store
[
]
Within the market district lies a pet store, where players may be able to buy pets in future releases of the game.
Secret alcove
[
]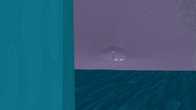 There is a hidden alcove under the city of Cantermore cliffside, which can be accessed by approaching the Cantermore Castle to the north east. The alcove is hidden behind a waterfall, and anypony can jump down to the pool of water to swim towards the alcove. Several seat cushions, tables, lamppost and a well can be found here.
Quests
[
]
Notable NPCs
[
]
The full list of NPCs can be found at List of NPCs
Gallery
[
]
The gallery archive can be found here.