Jurassic World: Dominion Dominates Fandom Wikis - The Loop
Play Sound
Cloudopolis is the starter town for pegasi, consisting of a main cloud body supporting an assortment of buildings, and smaller clouds scattered around the map. Clouds in the region are solid to all three pony races, allowing them to walk off the pathway. The city itself can vary greatly in elevation, often causing distinct landmarks to be blocked from view. Should players fall off the map, they will simply respawn in the center of town near Cloudopolis Academy with no ill-effects.
Northeast of the city's central pavilion lies the airship platform with the airship Splashcloud next to it, providing portals to both The Heartlands and Cantermore. A roadway connects the platform to the northern region of the city. For players seeking quicker transport to the heart of Cloudopolis, a shortcut portal can be accessed by climbing down stairs to the maintenance level beneath the airship platform.
Places of interest
[
]
Cloudopolis Academy
[
]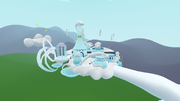 Cloudopolis Academy is where new pegasus players spawn. A cluster of buildings are situated next to a short runway, which appears to be for an aerial track marked by floating cloud rings near the academy. Players can occasionally be seen flying around the aerial track, competing for the fastest lap time.
Cloudopolis Dojo
[
]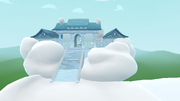 The dojo in Cloudopolis can be found in the northwestern edge of the city, built on the highest point of Cloudopolis' main cloud body. A waterfall which pours over the city's edge can be found here.
Cloudoseum
[
]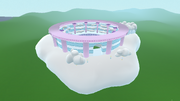 The Cloudoseum is a large stadium located off the main body of clouds, linked by a shortcut portal. The arena in the stadium is entirely hollow, facilitating flight movements within.
Rainbow waterfall
[
]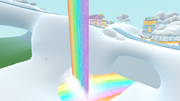 A cascading waterfall of liquid rainbow is likely to be the first landmark which players arriving in Cloudopolis will notice. Situated on the northern region of the city, the waterfall originates from a reservoir on a cloud higher up, which can only be reached by flight. Players interact with the liquid rainbow as they would with normal water, with no special effects gained.
Secret alcove
[
]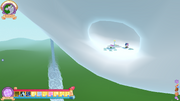 Hidden within the clouds below the city of Cloudopolis is a small alcove accessible only through flight, or extremely skilled unicorn teleportation. Several seat cushions, a table, lamppost and a well can be found here.
Weather Factory
[
]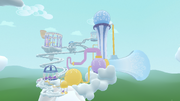 The Weather Factory is a multi-tiered complex found near the rainbow waterfall. Narrow, winding pathways connect different rooms in the weather factory, all of which serve specific purposes such as producing rainbows or clouds.
Quests
[
]
Universal
[
]
Pegasus-exclusive
[
]
Notable NPCs
[
]
The full list of NPCs can be found at List of NPCs
Trivia
[
]
The city was first made accessible to the public in January 2014, during the third Open Server Event.
Gallery
[
]