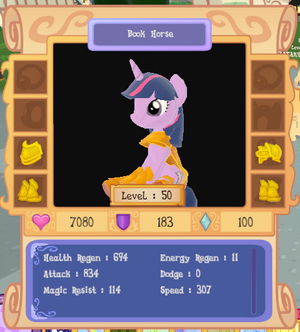 Equipment is any of a wide assortment items that ponies can wear to customize their appearance and abilities in Legends of Equestria. A total of eight equipment pieces can be worn at one time. They range from accessories such as hats to armor and weapons such as the Wooden Sword. Equipment can be bought in NPC shops, such as those run by Bluebell in Cantermore and Buttercup in Ponydale, obtained as drops from Mobs, or received as quest rewards.
While equipment can be carried in a pony's inventory as any other item, it will not be visible on the pony unless moved to an appropriate and compatible equipment slot. Selecting equipment while it isn't worn will bring up a small menu offering the option to wear it. Equipment can also be dragged between inventory and equipment slots.
Only one piece of equipment can occupy a specific equipment slot at the same time. Each equipment item has a designated slot (or in a few cases, two slots), and can only be placed in that slot. With the exception of dual-slot items, what is in one equipment slot has no effect on what can be placed in another.
| Icon | Name | Level | Bonuses |
| --- | --- | --- | --- |
| | Socks | 1 | None |
According to the developers there are 502 hats planned for the game.

This was, quite obviously, a joke.

The top equipment slots on each side have a background image currently referred to as "bracelet" by the development team. They have also mentioned the term "mouth" as a possible equipment slot.
Community content is available under
CC-BY-SA
unless otherwise noted.