Foal Delivery Express is a quest given to players by talking to Blueberry, who is found with her husband Scattershot near the Crystal Castle after completion of The Great Book Trade. The quest involves talking to a few other NPCs for some advice on how to raise a foal.
Quest initiation
[
]
Scattershot and Blueberry have invested over ten thousand bits into their soon-to-be foal's new bedroom, though they can't help but feel that there's still something missing.
Blueberry asks the player to look for Lumineer, Free Trade and Minister Spindle on advice on handling foals. They can be found at the train station, market stand at the Fairgrounds, and outside the library respectively.
Journal: Scattershot and Blueberry need my help preparing for the foal, and they want me to talk to their friends for advice. Lumineer is at the train station, Free Trade's over at the Fairgrounds in his stand, and Spindle is by a library.
I should talk to Free Trade.
I should talk to Lumineer.
I should talk to Minister Spindle.
The ponies' advice
[
]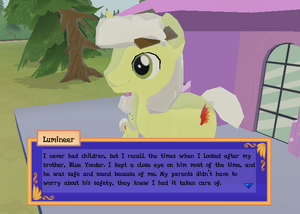 Lumineer's advice is to keep their foal protected as much as possible. Although he calls Equestria "wonderful", it has its shares of danger, so safety is paramount. No matter how courageous the foal may grow to be in the future, a young pony still requires their parents during their growing years.
Minister Spindle's advice is to have as many spare equipment as possible to ensure that there is never a shortage. He also mentions to invest in toys and clothing for the foal. With foals, he mentions that there can be a lot of unexpected costs and events to prepare for, so setting aside some bits for them is useful.
Free Trade offers a book to pass to the couple, mentioning that it is the best title he has to offer.
Quest completion
[
]
The player passes the book to the couple, and they remark about its usefulness, as well as the list of foal names at the end, though Blueberry urges Scattershot not to get carried away with naming for now. After conveying the rest of the information to Scattershot and Blueberry, the two to get caught up in their discussion, causing the player to remind Scattershot of their presence. After being reminded, Scattershot will thank the player for the help rendered and rewards the player with 250 bits. The player also gains 250 XP in all talents
Journal: Blueberry and Scattershot were both very pleased with the advice they received.
Gallery
[
]