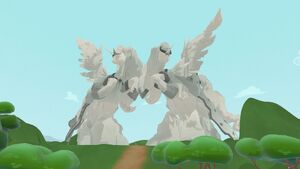 The Heartlands Gate is a large gate consisting of an alicorn monument on each side. The gate is located atop the Constellation Hill in The Heartlands. A portal to Cloudopolis is located between the monuments.
The NPC Sextant can be found beside one of the monuments, providing the Startrot: The Mysteries of Space quest to players.
The entrance to the Bramble Woods can be found behind a huge clump of brambles near the gate.