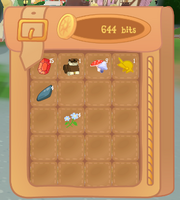 Items can be received by completing quests given by NPCs, buying them from NPC merchants' shops with bits, defeating mobs, using a talent to craft them, or by finding them on the ground.
Items can be categorized into the following groups: (QR=Quest Reward; duplicates of these items are not normally obtainable by a single player outside of trading. Exceptions are bold and underlined; hover over to find out more.)
Miscellaneous
Icon
Name
Buy (bits)
Sell (bits)
Stack
Catalepsy, Signed 1st Edition
20
20
QR
Gems
30
30
10
Health Harmony
-
1

QR

Health Potion
50
50
30
Mana Crystal
-
25

QR

Messerschmitt's Letter of Recommendation
-
-
QR
Mixing Spoon
2
2
10
Sandwich
-
1
QR
Saxophone
35
35
10
Trombone
30
30
10
Trumpet
23
23
10
Unobtainable items
Edit
The following items exist in the game, but cannot currently be obtained by player ponies.
Bucket, Empty
Bucket, Full
Community content is available under
CC-BY-SA
unless otherwise noted.