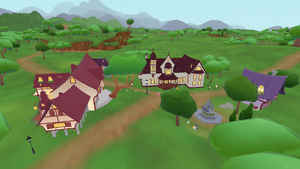 Midway Village is the largest settlement in The Heartlands, having the highest concentration of NPCs within the entire map. It also acts as a central player hub of the area by being located in the middle of the map, and being the re-spawn point for the entire area. Unlike a major town, the village lacks guards, so mobs that wander into the village can pose a threat to players seeking a safe place to rest.
Since the 8th Open Server Event, there is a portal to an area where players can spar with each other.
Community content is available under
CC-BY-SA
unless otherwise noted.