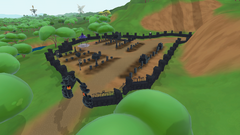 The Pet Graveyard is an landmark located to the south of The Heartlands, close to the portal that leads to Cantermore. 
The area is clear at the daytime, however at the night time the area will be covered with a thick cloud of fog.
Any Pegasus players will be temporarily grounded while at the location, they won't be able to fly out of the cemetery or around it. If the player attempts this, they will receive a message in the chatbox stating 'A mysterious force prevents you from flying'.