Jurassic World: Dominion Dominates Fandom Wikis - The Loop
Play Sound
The Frontier is a large wilderness map based on the Wild West.
Places of interest
[
]
Applewood
[
]
Applewood is a small town and the entry to The Frontier; the portal is directly in front of the Applewood station.
Dodge Juncture
[
]
Dodge Juncture is a tiny settlement on the end of the railroad track that runs to the north of Applewood. A single level 20 Pegasus Rock Golem can be found on a hill not far from the settlement.
Cherry Ranch
[
]
The Cherry Ranch is an isolated farm house with a field of cherry trees directly west of Dodge Juncture.
Camp Site
[
]
The camp site is somewhat hidden in the mountains in the north east of The Frontier. A large camp fire lights up during nighttime.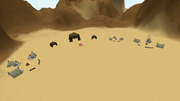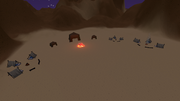 Iron Ridges
[
]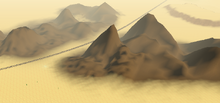 In the mountain range north of Applewood, a jagged series of peaks marks the famous Iron Ridges. Known as one of the richest mother lodes in all of Equestria, ponies can find plentiful mining spots for Copper Ore, Tin Ore and Iron Ore.
Highest Plateau
[
]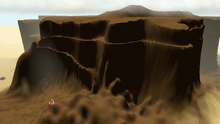 Soaring high over the Frontier, this plateau can only be climbed via a rickety staircase that leads to a treacherous trail wrapping around the face of the cliff. Brave ponies who make the climb are rewarded with a spectacular view and the chance to mine Elementium Crystals. The entrance to the Applewood Mines is located at the bottom of the side of the plateau facing Dodge Juncture.
Quests
[
]
NPCs
[
]
See also the List of NPCs.
Gallery
[
]