Sparking discussions and debates.
Hi! Any questions, comments, areas for improvement? Don't hesitate to leave a message on my wall!
Number of active users on the site: 4
Notable contributors:
McClaw, sustained contributions with good faith — more than any other member since this year, in fact!

Silver Scroll, quest specialist

Ihengheng, patching up the gaps here and there
Special thanks to "BaronofCaring: Adventurer Extraordinaire" for helping out with gathering stats in alpha 0.1!
Editing standards:
[
]
Simplified English

, but "dialogue" is used for conversations
Avoid writing in

second person

. Instead, use

third person

<br> can be used to create a line break instead of spamming enter, yus?
English, please! This is an English wiki. If you want to create another LoE wiki in your own language, you're free to do so.
Do learn to edit using the Source mode, Visual mode can lead to some kinks in the formatting.
Pony races not to be capitalized when using mid-sentence. I don't see human being capitalized either. Microsoft Word thinks otherwise because it thinks you're referring to Pegasus, Hercules' magical flying horse.
Infobox row titles should not have colons
1 distance unit ~= 1/6 hoofsteps
Section headers should not be fully capitalized i.e. ==This is a new section==
Sticky notes
[
]
Info dump
[
]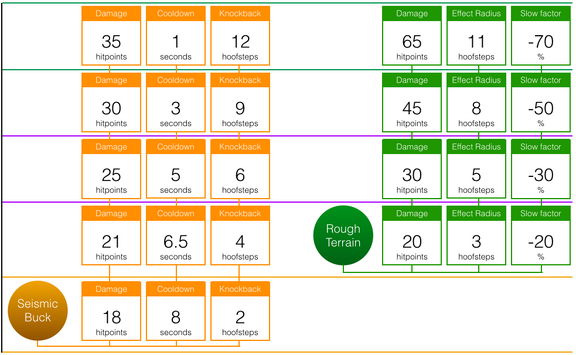 Pillow Barrage (???, Type: Soothing)
Attack types: None, Physical, Magical, Poison, Grass, Psychic, Ice, Fire, Ground, Steel, Dragon
Status effects: None, Paralyzed, Afraid, Poisoned, Frozen, Burning, Bleeding
XP gained per-completion; not per-usage, skill-specific (Refer to Talent Marks)
Soothing abilities will soothe the target; effects will happen (tradeoffs? Attack, speed, defence?)
Best if soothe bar is kept in the middle
Formula: Tension = Stamina reduction + ability type + unknown variable
Non-violent confrontations in the works
Conflict can be ended in "different" ways
Crystal centipede enemy
Crystal Golem enemy
Books (10000+s words on LoE lore, including Sun Tzu's The Art of War, ponified) are being close to implementation